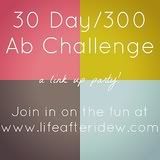 I need a favor to ask of all y'all. I need you to hold me accountable for this 30 Day/300 Ab Challenge. For what you ask? Shannon over at Life After I "Dew" is hosting this death trap link up. I will let Shannon tell her weigh loss story and results but honestly? She is amazing. She has an adorable little girl and a HAWT husband (no seriously, go look at the picture she posted after he participated on the ab challenge).
Anyways, I am taking the plunge and just doing it. Nike, you can thank me later for the plug. It will be difficult. It will suck. It will take a WHOLE 15 minutes. It will hurt [in the beginning]. But will it be worth it? Oh, you better believe it!
Will you participate with me? I promise you will thank me later. Oh and don't be afraid to email/comment/tweet asking how it is going. I will need that motivation because of this nannying full-time deal I have going. So exhausting. Without further ado. Day 1, you are about to get your ass kicked!
Don't forget about my giveaway my Lovelies!